The Cradle of Humankind

Chapter 76 in Birding Gauteng explores various sites in the area that contains the Cradle of Humankind. Here are some reports from various spots in this area:

1. Rhino and Lion Park - June 2010
We were hosting a father and son from Canada for the World Cup Football tournament and decided to head off to the Rhino and Lion Park in Muldersdrift, just to the North-West of the city of Johannesburg. It is briefly mentioned in chapter 76 (page 264) of Birding Gauteng. The list of possible species did not sound spectacular but the vulture restaurant sounded like a good site to visit as well as the picnic spot with the option to pet animals for the kids.
The park is only open from 8am so it is not ideal for an early birding experience. But on a freezing cold Winters mornings it was good timing. Before we even entered the park we spotted some lion in a cage across the road from the Park (next to the breeding camps) and here we spotted Ground Hornbill, Yellow-billed Egret and Grey Heron.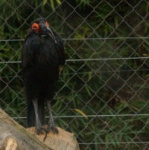 We paid the rather steep entrance fee of R100 for adults and R70 for kids under 12) and made our way to the first of the little dam (where nothing apart from Ostrich were present) before heading to the vulture restaurant. As we approached the hill where the restaurant is located we began to see dozens of vulture soaring overhead and spotted around 40 vulture silhouetted against the skyline. At the top of the hill we entered the hide above the area where the carcasses are laid out and were overwhelmed at the number and size of the vultures. From my laymanís eye the groups seemed to consist of both White-backed Vulture and Cape Vulture (including many juveniles). When even saw a Black-backed Jackal walking on the carcasses right in the midst of the Vultures (you can see it in the second pic).
All along the way we had great, and really up close, sightings of animals including Rhino, numerous Buck and Lion and Cheetah (in the predator camps). I will focus on the birding that took place along the way, and end with some animal pics. Three close sightings, not of which were Lifers, took place near areas where animals are fed. These included Long-billed Pipit, Familiar Chat, Ant-eating Chat and Capped Wheatear.
Sadly, that was the birds we saw apart from more common species such as Dark-capped Bulbul, Black-throated Canary and a few other LBJs, before we headed off to the picnic area that allows visitors to pet cubs. At the petting zoo area, we enjoyed seeing the following birds up close: Greater Flamingo, White Stork, Fulvous Duck, Great White Pelican, Secretarybird, Marabou Stork, Blue Crane and Grey Crowned Crane.
The following two birds in the enclosures remain unidentified to us: one that looks like a Crane and the other a duck (it is a Swan Goose):
Is it a great birding destination? Yes and No. The vultures were amazing and maybe in Summer there will be more birds in the game area. For kids and folk new to birding, seeing the birds up close in the petting zoo area would be a highlight.
Here are some pics of the buck that we saw during the day:
Here are some pics of the predators that we saw during the day:
Here are some pics of the Cape Buffalo, Wildebeest and Zebra that we saw:

2. Rhino and Lion Park - January 2011
I took a group of American college graduates to the Rhino and Lion Park in January 2011 and did not have any expectations to see any new birds. But I was delighted to see a Black Kite - a lifer for me:
Oh, and I spotted a Red-backed Shrike (female or juvenile) that posed nicely for me:

3. Maropeng - May 2011
On the 6th of May I spent three hours birding and atlassing in the Cradle of Humankind in the grounds of Maropeng. I saw a total of 44 different bird species, not a bad tally as we approach winter in Gauteng. The grasslands are supposed to contain Common Quail, Kurrichane Buttonquail and African Quailfinch, but I suspect I will have to return in summer to see these species. The highlights for the spot for me were seeing Levaillant's Cuckoo and Cape Grassbird. I took a pic of what looked like a Lesser Masked Weaver - but SABAP seems to think it is out of range - so I am open to having my id challenged (I only got this one shot unfortunately before it vanished into think air).
I walked around the clearing that has been cut in the long grass around the hotel and past the municipal water reservoir and spent time around the main visitor center as well as in the grasslands towards the entrance gate. I did not see any snakes but apparently the area is teeming with snakes. There are even signs warning visitors to be careful of snakes.
Here is a full list of the birds that I saw: African Pipit; African Stonechat; Ant-eating Chat; Black-chested Prinia; Black-collared Barbet; Black-crowned Tchagra; Black-shouldered Kite; Blacksmith Lapwing; Black-throated Canary; Bokmakierie; Cape Glossy Starling; Cape Grassbird; Cape Robin-Chat; Cape Sparrow; Cape Turtle Dove; Cape Wagtail; Cape White-eye; Cape Longclaw; Chinspot Batis; Common Fiscal; Crowned Lapwing; Dark-capped Bulbul; Fiscal Flycatcher; House Sparrow; Jameson's Firefinch; Laughing Dove; Lesser Masked Weaver; Levaillant's Cisticola; Levaillant's Cuckoo; Rattling Cisticola; Red-billed Quelea; Red-eyed Dove; Rock Pigeon; Southern Boubou; Southern Grey-headed Sparrow; Southern Masked Weaver; Southern Red Bishop; Speckled Mousebird; Speckled Pigeon; Tawny-flanked Prinia; White-bellied Sunbird; Yellow-fronted Canary and Zitting Cisticola.
Here are a few scenery pics from the birding spot:
Here is a selection of bird pics that I took:
I needed to get back to prepare for youth events on the weekend and did not have time to do the ten kilometer Kruitfontein dirt road which is supposed to be quite rewarding. I will have to return in Spring or Summer to do both these spots again!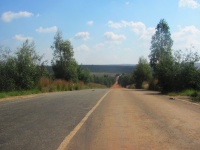 4. Hartbeesthoek Road - May 2011
On Monday the 16th of May 2011 I left home at 5:45 to bird the Hartbeeshoek Road and Hekpoort Valley route. I had previously explored the Lion and Rhino Park and Maropeng sections of this chapter but had actually never even driven down the Hartbeesthoek Road. I also needed to visit the Weavers Roost resort in the Hekpoort Valley.
I arrived at the sun was rising over the Sterkfontein Hills and due to the cloud cover was greeted by a spectacular sunrise which these photos almost do justice to:
The cold morning and cloud cover made birding along the first section of the route - up to the Radio Astronomy Observation station (HartRAO). There is some farmlands on the right and a Telkom facility on the left where I saw a number of bird species around some cattle troughs. Unfortunately these two roads off the main road are marked private so it limits birding opportunities! Here are the birds I saw in this area: Pied Crow; Blacksmith Lapwing; Crowned Lapwing; Egyptian Goose; Cape Turtle Dove; Cape Sparrow; Long-tailed Widowbird and Southern Red Bishop.
I stopped at Segwati Ranch which is apparently welcoming of birders who wish to spend a few hours on their property but decided against calling to gain entrance given that it was before 7am. I thought I'd return to the spot later in the day but time and cloud cover conspired against this happening (I'll have to make another visit to this spot). I turned my attention to the little dam on the other side of the road and caught sight of: Yellow-billed Duck; Common Moorhen; Reed Cormorant; Red-knobbed Coot; Black-crowned Tchagra and Arrow-marked Babbler. Here some scenery pics from this spot:
I pressed on and was disappointed to not spot or hear Barrow's Korhaan which is apparently present in these grasslands. I arrived at the bridge over the Skeerpoort River and after pausing for some scenery shots (there was not a single bird in sight - not one!!!) took the road past the Hartbeeshoek Winkel towards the Trout Farm - which sadly I was refused permission to visit. In fact, this is the first time I have EVER not being given entrance to a spot after some sweet talking! Guess where I will never be taking my family for a weekend. This spot is definitely on my blacklist! Here are some scenery shots in this area:
I did spot a raptor but it was off in a tree behind a fence and long grass and I could not id it with binocs and this photo is not helping me either (I'd guess at Gabar Goshawk). Here is a list of the birds I saw in this area: Red-faced Mousebird; Dark-capped Bulbul; Arrow-marked Babbler; Green Wood Hoopoe; Chinspot Batis; Yellow-fronted Canary; Crested Barbet; Blue Waxbill; Grey Go-away-bird; Common Myna; African Grey Hornbill; Hadeda Ibis and African Stonechat.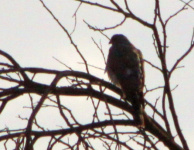 I then headed off along the dirt road to Skeerpoort - stopping at the layover (with some great views of the river in the valley down below) where I listed a few more bird species, including Dark-capped Bulbul; Lazy Cisticola; Fork-tailed Drongo; Karoo Thrush; Black-shouldered Kite and Cape Robin-Chat. Here are two scenery shots that I took - the birds did not come close enough to do justice to photography:
I started getting rather frustrated at all the dust that was being generated by all the traffic that was being generated by cars, taxis and trucks that were racing along the road. I realised that I had to make a plan to get off this road and down to the river but all the properties seemed to be private and most had gates without intercoms so not at all accessible. I got lucky when I noticed a sign to River Bend Cottage and it was not barred by a huge gate. I drove down the dirt road, past a homestead where no one seemed to be at home and then past a sign saying "Road Closed". That lead me to a bridge that crossed over the Skeerpoort River and to a few more properties and land along the river.
With my cap in hand I approached a homestead and after showing identification was invited to spend time on the property. The home is literally on the river (and I mean literally) - you will see in one of these scenery pics that it is about 4 meters from where I sat on the stoep (drinking coffee with the owner who is a retired chemist) to the water's edge. They built the home there some 20 years ago and go through 50kgs of seed a month in winter feeding the birds that visit their feeders. I also got to sit on the banks of the river enjoying the tranquillity of the spot.
I then spent the next two hours birding the rest of their property seeing the following bird species: Grey Go-away-bird; Cut-throat Finch; Fiscal Flycatcher; Dark-capped Bulbul; Southern Masked Weaver; Black-chested Prinia; White-bellied Sunbird; Cape Robin-Chat; Brown-hooded Kingfisher; Cape Grassbird; Yellow-fronted Canary; Black-throated Canary; Blue Waxbill; Egyptian Goose; Tawny-flanked Prinia; Southern Grey-headed Sparrow; White-fronted Bee-eater; Cape Vulture; Streaky-headed Seedeater; Cape Glossy Starling; Black-backed Puffback; Thick-billed Weaver; Cinnamon-breasted Bunting; Long-tailed Widowbird and Cape White-eye. Here are some pics I managed to snap that are worth showing or are just a bit better than record shots:
The struggled I had was that I ended up spending a long time on the day chatting with folk when my I am really wanting to be out finding birds. I certainly appreciate being given access to private property but realise that it often means that you do have to sacrifice time out in the field. In fact, when I left this property and walked further along the river it happened a second time and a whole hour of time was lost - however my time with the owner was most pleasant and beneficial and I even got to handle a raptor that died after it flew into a window (we think it might be a Sparrowhawk - any ideas?) and enjoyed a cold drink thanks to their kind hospitality!
This landowner and her husband runs a super accommodation spot called Basil's Boma. Here is a contact number in case you wish to arrange to stay over in the area: You can call Joanne on 0838982028 or contact them by email on themabakala@mweb.co.za.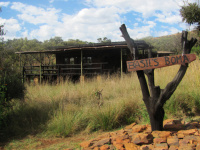 I then drove through Hekpoort on the northern side of mountain range and saw Sacred Ibis, Black-headed Heron; Crowned Lapwing; Blacksmith Lapwing; African Wattled Lapwing; Grey Heron on my way to Weaver's Roost - a birder friendly establishment in the Hekpoort Valley. I was welcomed, given a bird list and not charged to spend time on the property (no prizes for guessing where I would consider booking a stay with my family after such a welcoming reception compared to the trout farm!!!). Here are a few scenery shots that I took.
Clouds were gathering so it was not idea for birding I did add a few species to my list for the day: Kurrichane Thrush; Dark-capped Bulbul; Red-eyed Dove; African Firefinch; Crested Barbet; Grey Go-away-bird and Cape Turtle Dove. I did complete the River Walk Way and took some pics but only got one bird shot that is worth showing:
I briefly stopped at a little dam on the way back to the Haartbeeshoek road junction where I saw - they were well out of my range, so these horrendous pics of the sunbirds enjoying the flowers are just for proof. The dam also had Yellow-billed Duck; Blacksmith Lapwing; Egyptian Goose and Grey Heron.
I ended my time by driving along the Hartbeeshoek road one more time (adding Laughing Dove; African Stonechat; Cape Wagtail and Cape Longclaw to my list) - this time continuing past the Skeerpoort River bridge towards Hartebeestpoort Dam - where I saw Helmeted Guineafowl; African Wattled Lapwing; Crowned Lapwing; Blacksmith Lapwing; Common Myna; Common Fiscal and Hamerkop.
That was not a bad day out. Despite spending a lot of time chatting with land owners when I would probably had preferred to be outdoors looking for birds (and this no doubt affected the number of birds I ended up seeing) - it was still a fantastic day out - and the 66 birds spotted given these limitations was still a significant number.
Index