D'Nyala Nature Reserve
On Tuesday the 6th July (a colleague from work had asked me to introduce his son to birding) we set off at 3:30am for the D'Nyala Nature Reserve covered in chapter 85 of Birding Gauteng. We drove from Johannesburg on the N1 to Modimolle and then headed north-west on the R33 to Vaalwater. Just outside Vaalwater there is a Total garage (24°17'8.65"S and 28°6'6.21"E) and a turn off to the right. From there we drove north to the entrance of the reserve (23°44'52.82"S and 27°47'25.96"E) arriving at just after 7am. The reserve is about 10kilometers south of Laphalale (Ellisras). Here is a contact number for someone at the reserve: 0788014892 and a land line for reservations: 015-2933600.
We were rather surprised to discover how cheap the entrance fee was (R10 for adults, R5 for kids under 15 and R20 for a vehicle). We made our way to the rest camp stopping along the 4.5km tar road to do a bit of birding. We saw Red-billed Hornbill, Natal Spurfowl, Southern Black Tit, Blue Waxbill, Cape Turtle Dove, Long-billed Crombec, Chinspot Batis, Black-backed Puffback, Swainson's Spurfowl, Yellow-billed Hornbill, Grey Go-away-bird and Crested Francolin. The weather looked ominous and the light was poor for pretty much the whole day. Fortunately it did warm up a bit during the day!
Once we had signed in at reception we headed back along the tar road and took the main tourist route - a 26 kilometer dirt road that circles the rest camp and passes the two bird hides - Tamboti in the north and Kokoriba in the South. On the way to the first bird hide we saw Arrow-marked Babbler, Pearl-spotted Owlet, Emerald-spotted Wood-Dove, Green-winged Pytilia, Brown-crowned Tchagra, Rattling Cisticola, Cape Glossy Starling, White-browed Scrub-Robin, Acacia Pied Barbet and Southern White-crowned Shrike. We also stopped to take a pic of one of the Baobab trees, apparently this is the most southern distribution range of the baobab tree and there are more than 60 in the reserve.
The beauty of the Tambotie hide was incredible. The hide is really well designed and the wetland something you just have to see to comprehend. Here we saw African Jacana, African Spoonbill, Egyptian Goose, Blacksmith Lapwing, Reed Cormorant, around 100 Marabou Stork, a lone Black Stork that flew overhead, Pied Kingfisher, African Darter, Little Egret, Great Egret and Three-banded Plover. By no means is this a big tally for this wetland - I suspect that in the rainy season it will be pumping with life!
Here is a selection of pics that I took around the hide:
We made our way further along the tourist route towards the Southern hide and had up close sightings of Yellow-billed Hornbill.
In an area that looked good for Sandgrouse I had just about given up looking and was about to drive on when a female Double-banded Sandgrouse moved and soon the male showed itself. They are so well camouflaged! I opened my door to get closer for a better pic and they immediately took off!
A bit further along the road we spent some time birding in the riverine thickets seeing Laughing Dove, Grey-backed Camaroptera, Black-eared Waxbill, Tawny-flanked Prinia, Grey Flycatcher-Tit, Emerald-Spotted Wood-Dove and Brubru. Only last night at home did I read the documentation we got at the main gate and realise that we were not supposed to leave our car except at the bird hides. Sorry!
We arrived at the Kokoriba bird hide, another splendid piece of location and design, and saw Common Ostrich, Blacksmith Lapwing, Helmeted Guineafowl, Laughing Dove, Cape Turtle Dove, Namaqua Dove, Red-faced Mousebird, Crowned Lapwing and African Wattled Lapwing.
We continued on the tourist route along the southern most part of the reserve seeing White-crested Helmet-Shrike, Grey-backed Camaroptera and Greater Blue-eared Starling.
We arrived at the rest camp and spent some time birding the area trying to add to our tally for the day. We saw White-bellied Sunbird, Brown-hooded Kingfisher, Grey Go-away-bird, Red-billed Hornbill and Yellow-billed Hornbill. We noticed that the rates for staying overnight at the rest camp is also really reasonable - just R350 a night for up to 6 people in the wooden lodges. The swimming pool looked really inviting as well. I have included a pic of the conference center - the peace talks between Nobel Peace Prize winner FW de Klerk and Cyril Ramaphosa were held here before the democratic transition in South Africa.
One of the surprises I got was discovering that the reserve is named after the Nyala tree and not the buck species that is prevalent in the reserve. Here is a photo of one of the Nyala trees in the camp near the hellipad: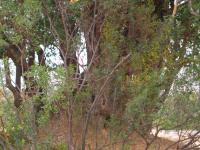 We decided to head back towards Johannesburg and spent a while at the picnic area near the main entrance gate. Here we saw Golden-breasted Bunting, Cape White-eye, Blue Waxbill, Yellow-bellied Greenbul (only my third sighting of this bird - previously in Northern KwaZulu/Natal), Cardinal Woodpecker and what I suspect may be Lesser Masked Weaver due to the leg colouration.
Here are a selection of shots we got of other critters on the day - including Bushbuck, Nyala, Impala, Baboon, Vervet Monkey, Blue Wildebeest, Common Duiker, Waterbuck, Kudu and Squirrel.
A great day of winter birding - with 57 bird species seen on the day! Also a historic day as this is the last of the 101 spots in Birding Gauteng that I have been needing to visit! Hopefully the authors will bring out part 2 so that I can continue following their hotspots!