Kruger National Park
Trip 1 - April 2010
In April of 2010 we had the privilege of house sitting in the little town of Sabie which allowed us to take 2 day trips to Kruger. This day was focussed around the Pretoriouskop and Skukuza areas. In total we saw 51 different birds species on the day. Oh, and a few mammals too! Here is a selection of pics that I took:

Trip 2 - April 2010
In April of 2010 we had the privilege of house sitting in the little town of Sabie which allowed us to take 2 day trips to Kruger. This was out second day trip and it was an amazing day in the Kruger where we spotted four of the big 5 (just the Leopard eluded us) as well as 62 bird species. The weather was overcast and cool all day - making it pleasant for us, but challenging for photography! Here is a selection of pics that I took:

Trip 3 - April 2011
In April 2011 we had a family holiday at the Kruger National Park. We missed out on visiting the Kruger in December and were longing to get back for our annual pilgrimage plus I had been reading about a White-backed Night-Heron that was showing around the hide at Lake Panic near Skukuza. I had been looking for this bird for about a year! We had accommodation for four nights which gave us five days of birding. Here are some of our highlights:
Day 1
We spent the morning birding at Kaapschehoop, a quaint little town just south of Nelspruit, before heading to the Paul Kruger gate entrance. We drove straight to the bird hide at Lake Panic (killing some time before we could check in at Skukuza at 1:30pm). We looked in vain for the White-backed Night-Heron but did spot this very young Green-backed Heron doing gymnastics on the reeds trying to catch insects for lunch (a few older juveniles was also also in the area):
There was little else going on at the dam so we made our way back to Skukuza. We got to Skukuza but were still too early to check in, so we went for a walk along the river front. We spotted Purple-crested Turaco, Martial Eagle and Brown Snake-Eagle soaring overhead, Tawny-flanked Prinia, an adult Green-backed Heron drinking at the river, White-fronted Bee-eater and a large group of African Green Pigeons feeding in the trees:
We returned to Lake Panic around 5pm and saw a slightly older juvenile Green-backed Heron practising his flying and landing in the area - not too graceful I must admit!
I was carefully scanning the dark thickets on the other side of the water - when a movement caught my eye and I thought I was in luck with the Night-Heron - but it turned out to be a Water Thick-Knee that I would see each time I visited the hide to look for the Herons! The other birds around the hide included Reed Cormorant, African Pied Wagtail, White-faced Duck, Brown-hooded Kingfisher, Pied Kingfisher, Black-headed Oriole and Black-backed Puffback.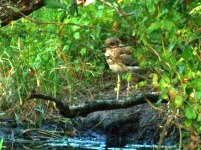 But now my eyes were in tune and I was actively scanning - and you can imagine that I was beside myself with joy when out popped what looked like a juvenile Heron - possibly a Green-backed - but judging by the large eyes and the yellow eye patch - surely juvenile White-backed Night-Heron. That night I posted the pics and got the confirmation that these were the bird that I had driven five hours to see!
We left the hide at late as we could to get back to Skukuza before the gates closed on us! That was a GREAT day!!!
Day 2
We headed off at day break to the hide at Lake Panic to see if we could spot the White-backed Night-Heron again. On the way there we spotted two African Hawk-Eagles in a tree next to the road - pity it was overcast as the light was really low:
We arrived at Lake Panic and focussed our attention on the spot where we had seen the birds last night. I have marked the spot on this image where they have been nesting:
While we continued to check the thickets for the birds we enjoyed the antics of the Kingfishers at the hide:
At 8:20 we got our first sighting of the White-backed Night-Heron - just when we were thinking of giving up and leaving the hide:
The day before we had received a pamphlet at reception that mentioned an open day at the Skukuza nursery - which I had not heard of before. So we left the hide and drove further down the dirt road for about 2 kilometers to the nursery. Our focus was on the Wetland Walk Way that we had read about. Here are some scenery shots of the amazing little wetland:
We spent at least at hour at this spot taking pics of Spectacled Weavers (there was a Weaver with the Spectacled Weaver that could be a juvenile or female but I thought their beaks were supposed to be black), White-crested Helmet Shrike, Yellow-breasted Apalis, Violet-eared Waxbill, Speckled Mousebird, Chinspot Batis, Brown-headed Woodpecker, Green-backed Camoroptera, Garden Warbler (which refused to come out for a photo no matter how long I waited), Black Crake and Cape Glossy Starling.
Our next stop was the dam at the Skukuza Golf Course - we were surprised to see a sign welcoming visitors - thinking that it would be private. Here we saw African Pied Wagtail, Three-banded Plover, African Jacana, Greater Blue-eared Starling, Egyptian Goose, Malachite Kingfisher, Speckled Weaver, Black-collared Barbet, Chinspot Batis, African Black Swift, Red-billed Hornbill and Black-headed Oriole:
On our way back to Skukuza, we saw Bataleur, White-browed Scrub-Robin and Red-backed Shrike:
We decided to head off along the H1-2 towards Tshokwane and picnic at one of the dams along the way. On the way to Leeupan (where we ended up having lunch) we saw Marabou Stork, a huge number of vultures (White-backed and Cape) and other raptors (African Fish-Eagle and Tawny Eagle) that were eyeing out a Buffalo that was lying on it's side on the river bank), Lilac-breasted Roller, European Roller, Red-billed Oxpecker, Red-backed Shrike, Square-tailed Drongo, Southern Black Flycatcher, White-throated Swallow, and Green Wood-Hoopoe. We stopped at the Kruger monument where Striped Crake had been seen recently, and even though there is water in the area we did not see the mother or her chicks. We did see Golden-breasted Bunting, Yellow-fronted Canary, Cape Glossy Starling and Woodland Kingfisher.
We arrived at Leeupan and while we were having lunch we were joined by Green-winged Pytilia, Red-billed Firefinch, Blue Waxbill, Green Wood-Hoopoe, African Hoopoe, Crowned Lapwing, Arrow-marked Babbler, Burchells' Starling, Red-billed Buffalo-Weaver, Bennett's Woodpecker and Red-billed Hornbill.
We decided to head back to Skukuza as the afternoon was passing and I wanted to take one more look in at the hide at Lake Panic. Just after crossing the Sabie River I spotted a Cuckoo that I suspect is a juvenile Jacobin's Cuckoo:
As I made my way towards Lake Panic hide I crossed the bridge over the N'waswitshaka River that seemed to be alive with birds. This little chat was in the thickets and it too is proving difficult to id (at least the Red-faced Mousebird is easy to id!):
Then a great little sight caught my attention - a Cuckoo (possibly also Jacobin's) was being fed by a Dark-capped Bulbul:
We arrived at the hide and looked in vain for the White-backed Night-Heron - beginning to suspect that they had left the area. The juveniles certainly look like they would be able to look after themselves and could leave the nest for good.
Day 3
I started our third day by staking out the hide for the White-backed Night-Heron one more time and it did not show. On our way back to Skukuza we spotted Orange-breated Bush-Shrike, White-bellied Sunbird, Golden-tailed Woodpecker, Green-backed Heron, Southern Boubou, Cinnamon-breasted Bunting, Southern Black Tit, Hamerkop, Crested Barbet, African Paradise Flycatcher, juvenile Southern Grey-headed Sparrow, White-throated Swallow and Crowned Hornbill (that I don't believe we have seen in the Kruger before).
We packed up to leave Skukuza for Pretoriouskop where we were to spend the next 2 nights. We chose to drive the S3 dirt road along the Sabie river towards the Phabeni Gate and then along the Albasini Road. Along the way we had some great sightings of Lizard Buzzard and Shikra:
Here are some of the other highlights along the way:
Two more raptor sightings were really special. Firstly, sitting on a branch about 30 meters from the road was a raptor we initially thought was a Black Sparrowhawk but it turned out to be African Cuckoo-Hawk:
A Dark Chanting Goshawk posed nicely for a pic on the H1-1 close to the Pretoriouskop campsite:
When we arrived at Pretoriouskop Little Birdman, my 5-year old son, spotted a Pearl-spotted Owlet in a tree right outside our bungalow!
We also spent some time trying desperately to photograph the Purple-crested Turaco in the tall trees!
Day 4
One of the reasons for staying at Pretoriouskop was to find the last Francolin my life list is needing: Shelley's. We spent some time driving the Faye Loop road but apart from hearing their call did not get a sighting. When we drove to Afsaal picnic spot along Voortrekker Road (the H2-2) we thought we had gotten luck when a Francolin just stood in the road while we drove up to it. I soon saw that it was actually Coqui Francolin - still a nice sighting!
I few others good sightings followed:
Another bird that we spent quite some time listening out for along the Sabie river was Grey Penduline-Tit. We had stopped when we heard some birds in the thickets and suddenly recognised this species calling. No matter how hard I tried, this is all I was able to manage by way of photos of this lifer:
We arrived at the picnic site and spotted the resident African Scops-Owl - which was another lifer for me for the day!
As we were leaving the picnic site I spotted a bird in a bush snacking on a worm and was totally lost as to it's id. I thought of Puffback, Tchagra or Boubou and possibly a juvenile. It turned out to be Black-backed Puffback. I am still surprised at the yellow/green colouring on the bird.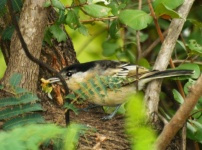 These little Rattling Cisticola's graced us with their presence:
An afternoon trip along the H1-1 saw us spotting another Dark Chanting Goshawk close to the road: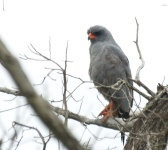 This little White-faced Duck family was hanging out at the Shitlhave Dam together with Pied Kingfisher and Common Waxbill:
We then heading off for one more drive of the Faye Loop before night fall and spotted African Green Pigeon roosting in a tree in huge numbers, Yellow-throated Longclaw, White-throated Bee-eater, Amethyst Sunbird, Arrow-marked Babbler, Burchell's Coucal, Brubru, Golden-breasted Bunting,
And lastly for the day - yet another Dark Chanting Goshawk: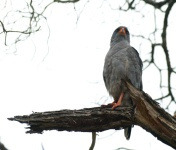 Day 5
Our last day in the Kruger was spent driving from Pretoriouskop at 6am past Skukuza and Lower Sabie to Crocodile Bridge. We had not gone far on the H1-1 when we had the Cheetah experience of our lives. A Cheetah was strolling down the road, we followed it for a hundred meters before it walked into the grass and then back onto the road. It left the road again and stood looking at us before slowly disappearing into the long grass:
Here are some of the bird highlights we had on the way to Lower Sabie:
Along the way I snapped some pics of what I thought was African Wattled Lapwing, but something did not seem right! And it certainly was not!!! It has turned out to be a lifer in White-crowned Lapwing!!!
It was a good day for raptors - Bateleur were particularly numerous:
We were pretty happy with ourselves for identifying juvenile Bateleurs as we had not seen them before:
And Brown Snake Eagle also got in on the act:
We left Lower Sabie and headed to the Ntandanyathi bird hide seeing the following birds on the way:
From the hide we stopped at Duke waterhole where nothing was happening before continuing to the H4-2 towards Crocodile Bridge picking up a few good sightings along the way:
As we turned onto the road that leads to the Hippo Pools - I drove past some Lapwings - and something made me back up to take a second look. You can imagine my surprise when we opened our birding book and realised that another lifer had just appeared in Senegal Lapwing! A great day for Lapwings too!
We spotted three Zebra in the road and managed to get really close to get decent pics of the adult and juvenile Red-billed Oxpeckers:
We had lunch at the campsite at Crocodile Bridge and while we were eating I heard a Tinkerbird. And suddenly it was in a dead three right next to where we were eating. It was only our second sighting of Yellow-rumped Tinkerbird (the first being in St Lucia):
While I was snapping away a Long-billed Crombec asked to have it's pic taken so - so obviously I obliged!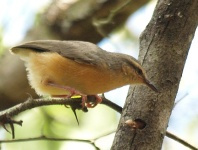 We left the Kruger and set off for Joburg - overwhelmed at all our experiences over the past five days! We saw around 150 bird species and I picked up 7 lifers!
Index