Loskop Dam Nature Reserve
On Monday the 8th of November I spent the day at Loskop Dam Nature Reserve (Chapter 91 of Birding Gauteng) - it took at least 2 and a half hours to get there from Joburg and I was wondering whether it was a worthwhile investment - and when it clouded at about 8am I thought I had made a major blunder. But it was an amazing day. I saw 84 different bird species in the reserve and got three Lifers in Violet-backed Starling (the bogey bird that I have been hunting after forever), White-rumped Swift and Wire-tailed Swallow. I ended the day visiting Wonderfontein Pans north of Middleburg - but will report on that part of the day separately.
I arrived at the bridge over the Olifants River at around 6:45 and marvelled at the beauty of the surroundings.
The number of Swifts and Swallows around the bridge was amazing including White-rumped Swallow, Lesser Striped Swallow, Lesser Striped Swallow and Wire-tailed Swallow (two of which were Lifers for me):
Some of the other highlights on the bridge were a Giant Kingfisher that flew off as I approached, Black Crake sneaking around, a close up sighting of Lesser Swamp Warbler and an African Pied Wagtail perched on a wire like a Swallow:
I spent some time birding in the thickets on the reserve side of the bridge, right next to the road - this was a productive 20 minutes where I saw White-bellied Sunbird, Tawny-flanked Prinia, Blue Waxbill, Speckled Mousebird and Rattling Cisticola.
Next it was off on an adventure - the road less travelled is a path way (which I actually drove in my car for about 500 meters) along the river towards the dam wall (it is point 2 in the book). I did some birding from my car for a while before the two track "road" came to an end and I continued on foot. I saw a trap that was set to catch buck and destroyed it before heading down to the river. I never did get right to the bridge as the vegetation got really thick and I did not want to spend all day there. Here are some scenery pics of the area:
The birds I saw were Thick-billed Weaver, Fork-tailed Drongo, Grey-backed Camoroptera, Green-capped Eremomela, Southern Masked Weaver, Dark-capped Bulbul, Black-collared Bulbul, Crested Barbet, African Hoopoe, Burchell's Coucal, Arrow-marked Babbler, Egyptian Goose, Green-backed Heron, African Black Duck, White-throated Swallow and Brown-crowned Tchagra. The best part was getting down to the river and exploring the quiet spots where I saw the Green-backed Heron and also a Little Bittern flying off (I post the Bittern pics only if you promise not to laugh out loud at my photographic abilities! Promise??? You have to say, I promise not to laugh...Okay, good, here are the pics!)
I made my way along the winding road through the rolling hills and initially thought my best birding was over. The clouds rolled in and the birds vanished. But I pressed on and stopped as often as possible to listen and look out for something feathery. I snapped a White-browed Scrub-Robin and then got this lucky shot of a flying Helmet-crested Bush-Shrike.
I kept seeing no-entry signs blocking entrance to numerous roads leading down towards the dam - I was really desperate to get down to the water line but was hindered - at last I came across a section where the road came close to the dam and I got a little sight of the dam as well as Pied Kingfisher, African Darter, Little Egret, Blacksmith Lapwing, Crowned Lapwing and Common Sandpiper:
The rest of the way towards the next key spot yielded Red-billed Oxpecker riding on a Kudu, Natal Francolin, Grey-headed Bush-Shrike (a beautiful sight to the eye, but with no sun around not great for photography), a female Black-backed Puffback and Southern Black Tit:
I then took the Blesbokvlakte road (point 6 on the map) and headed over the mountain and down to the dam. I heard Swainson's Spurfowl on the way down and saw Blesbok. My first highlight here was seeing two Temminick's Courser foraging in the burnt area close to the dam; a second was a Little Bee-eater (my second ever sighting), a Black-shouldered Kite that allowed me to get up close to it on foot before it flew off, a few loud Lilac-breasted Rollers flying up and down and some manic Barn Swallows that I tried to photograph with not much success. The dam itself was a tad disappointing apart from Egyptian Goose, Reed Cormorant, an African Pipit foraging on the grass close to the shoreline, and what I believe is a Marsh Warbler.
I headed back to the main road and headed towards the picnic site (point 8). Just before the picnic spot at a no-entry road that leads off to the right, I had a huge highlight photographically - with "just" a little Rufous-naped Lark. Hopefully the pics speak for themselves about the up close display that I was treated to. I also saw a Spotted Flycatcher and a few Bushveld Pipits at this spot.
The picnic site was not looking great as the river that runs past it was pretty dry and the area all around was burnt - so I continued to the shoreline and my time there was awesome. Here is what the spot looks like - there are two panoramas - the second requires driving along a double track on the sand of the shoreline back in the direction of the dam wall:


The birding highlights were almost too numerous to mention - birds were all over the shoreline and in the bush along the shoreline as well. Here are some highlights on the dam itself: White-breasted Cormorant, Reed Cormorant, Little Egret, Tern Whiskered (a large flock that seemed rather tame and kept returning for a few more pics), Little Stint (in one pic it looks like a Whiskered Tern is having a stand off with it), a family of Blacksmith Lapwing, Common Greenshank and Grey Heron.
The birds in the bush and on the dead tree that I saw included Groundscraper Thrush, European Bee-eater, Jacobin Cuckoo, Klaas's Cuckoo and African Pipit.
A beautiful fly over of an Osprey was a special moment, but it kept it's distance so I never got "the" shot!
It was really difficult leaving this area as the scenery was just amazing: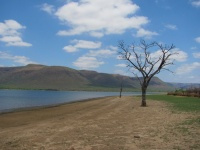 I headed back towards the main gate and got an awesome sighting of one of my bogey birds that I have hunter for over recent months: Violet-backed Starling (better known as Plum-coloured Starling - rather appropriately).
The other birds on the way back to the main gate included: Southern Black Tit, Golden-breasted Bunting, Cape Glossy Starling, Red-winged Starling, Willow Warbler, Grey Tit-Flycatcher, White-bellied Sunbird and Red-faced Mousebird.
At the main gate I saw Blue Waxbill, Little Swift, Lesser Masked Weaver (and an amazing scene where a Diderick Cuckoo trying to gain entrance to a Weaver nest was ferociously pecked by a Weaver and chased off with an almighty commotion and screeching! I also heard Klaas's Cuckoo before I left.
On my way back to Middleburg I stopped on the highway to take this pic of the dam and the dam wall:

Along the way I saw a good amount of mammals including Warthog, Kudu, Sable, Impala, Bontebok, Zebra, Giraffe and White Rhino.
An awesome day's outing at a stunning nature reserve. And I could have birded the Forever Resort complex which would have certainly increased the bird count for the day. 84 is an awesome day in my experience - given that I know I miss at least another 10 to 15 birds that I am not able to id.
Index