Mkhombo Dam Nature Reserve
Trip 1 - September 2010
On Saturday the 11th September I visited the Mkhombo Dam Nature Reserve (chapter 57 in Birding Gauteng). I arrived at the entrance gate, paid the R25 entrance fee and discovered that I did not need to make special arrangements at the other gates as they were now all left open. The 2 kilometer drive to the wall was quiet in terms of birding apart from African Yellow-billed Hornbill, Long-Billed Crombec and African Grey Hornbill, but at the dam I saw plenty of birds on the wall and down below the wall in the gorge where the Elands River flows. On the dam wall I saw numerous Grey Heron sitting at various points along the wall as well as Reed Cormorant and White-breasted Cormorant. Lesser Striped Swallow and Little Swift were hyper active around the wall and a Hamerkop and numerous Red-winged Starling were resting on the wall. On the road back to the entrance gate I spotted a solitary Black-headed Heron in a clearing a a lone Sacred Ibis flew overhead.
On the road to Geddes Bay that I next explored I saw Crested Lapwing, Rock Pigeon, Speckled Pigeon, Common Fiscal, Lourie and Magpie Shrike. The entrance to the dam runs next to the village rubbish dump and is not fenced off at all. The road leads to the waters edge and there is a road that runs west along the shore line for about a kilometer and because the acacia woodland is so thick you have to explore further on foot (I walked up the shoreline for about 2 kilomerers and could have continued much further if I was not being careful with how much time I was allocating for this part of the trip - I did find it hard birding the shoreline on foot as it seems like I would scare birds off more than when I arrive at a spot in my car).
On the dam I saw Yellow-billed Egret, Great Egret (I so enjoyed their raspy call they give when they fly off), Red-knobbed Coot, African Jacana, Blacksmith Lapwing, a wader that I suspect is a juvenile Ruff as the legs are greenish and not orange, Black-winged Stilt, juvenile Grey-headed Gull, White-faced Duck, Egyptian Goose, Malachite Kingfisher, Little Egret, Grey Heron and Three-banded Plover. On the shoreline and in the acacia trees I saw Violet-eared Waxbill, Blue Waxbill, Marico Flycatcher, Tawny-flanked Prinia, Levaillant's Cisticola, Speckled Mousebird, White-browed Scrub-Robin, Black-headed Oriole, Southern Boubou, Lesser Striped Swallow, African Pipit and Crimson-breasted Shrike.
On the way to western gate I stopped to take a look at the area of wetlands (point 7) but with the dry season we are in they were totally dry. At the Elands River bridge I saw Lesser Striped Swallow, Burchell's Starling (one day hopefully one of these Burchell's will morph into Meve's Starling - my Joburg Zoo sighting does not count unfortunately!) and Black-shouldered Kite.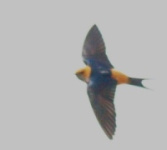 From here it is just about a kilometer to the turn off to the western gate to the dam and on the dirt roads from the tar road to the water's edge I saw Red-billed Hornbill, Cattle Egret, Southern Pied Babbler, Blue Waxbill (boy they are everywhere at the moment and in large groups too), Crested Francolin, Yellow-billed Hornbill, Black-throated Canary and Sabota Lark (Wow, confident call on a Lark id! Scary), a LBJ that could be Rattling or Levaillant's Cisticola or even a Neddicky (not so confident on this one!!!), Long-billed Crombec, White-browed Scrub-Robin, Firefinch (I suspect that it was Jameson's) and Fork-tailed Drongo.
Suddenly the dam became visible and I realised that I had been driving along the shoreline for a while without realising it. I had my GPS on terrain instead of Satellite - which would have helped! I spent the next hour or two stopping at various spots along the way to where the road disappears into the dam (strange - maybe some people have aqua cars or it has to do with boat launching) and I would walk down to the water's edge and see what I would come across. Here is a summary of what I saw on this northern side of the dam: Common Moorhen, Squacco Heron, White-faced Duck, Black Crake, African Fish Eagle, African Jacana, African Wattled Starling and Swainson's Spurfowl.
On the way back to the tar road I spotted Violet-eared Waxbill, more Blue Waxbill, Green Wood-Hoopoe, Arrow Marked Babbler, Pied Crow, Namaqua Dove, Fork-tailed Drongo and lots of Cattle Egret (like 20).
I made my way towards the village of Loding - not so keen in going through the gate and towards the dam again, but to search for Red-billed Buffalo-Weaver. In the village I stumbled across a little dam used by cattle and was surprised to see a great amount of bird life around the dam - including my second encounter with Comb Duck and this time up close. Around the dam I also recorded African Jacana, Hadeda Ibis, Red-chested Swallow, Blacksmith Lapwing (of course), Southern Masked Weaver, Cattle Egret, Lesser Striped Swallow, White-winged Widowbird and numerous species of dove and pigeon.
A drive through the rest of the village saw me record White-browed Scrub-Robin, Crimson-breasted Shrike, White-browed Sparrow-Weaver, Red-winged Starling, Rock Pigeon, Lilac-breasted Roller, Violet-eared Waxbill, Laughing Dove, Southern Grey-headed Sparrow, Scaly-feathered Finch and Cape Turtle Dove. Then on the way out of the town I spotted a large nest in a tree on the property of a school that I could not get close to and took some pics of a black bird near the nest. Only when I got home did I realise that it was a male Red-billed Buffalo-Weaver. Fortunately I got up close to a large flock of these birds at the entrance to the Mdala Nature Reserve which I visited that afternoon but I guess despite this horrendous photo I will have to put down Loding as the site where I first recorded them. I also saw a raptor flying over the village that I am convinced was a Gabar Goshawk but I was not able to get even a record shot of what would have been a lifer for me! They breed in this area and I even saw a second near Mdala Nature Reserve but would have had to crash my car to get a pic in time - and I was in my wife's car so crashing would not have been wise!!!

Trip 2 - December 2010
At the beginning of December mega alerts went out that African Pygmy-Goose, Pectoral Sandpiper and Spotted Crake had been seen at Geddes Bay at Mkhombo Dam! That was too much to ignore and I headed out there to try and capture these Lifers. Along the way I considered turning back on a number of occasions because of the rain that had been falling all night on the route and while I was driving. I was in a 2 wheel-drive and could not imagine navigating the dirt roads along the shoreline in a rainy season. Fortunately I persevered as I would be rewarded for my efforts!
As I made my way to the 1.4km spot where the African Pygmy-Goose had been seen I saw the following birds: Diderick Cuckoo, Wood Sandpiper, Ruff, Fulvous Duck, Pied Avocet, Cape Wagtail, Marsh Sandpiper, Hottentot Teal, Black Heron, Black-winged Stilt, Yellow-billed Stork, White-faced Duck, African Pipit, Squacco Heron, Speckled Pigeon, African Purple Swamphen, Reed Cormorant, Black-headed Heron, Blacksmith Lapwing, Common Moorhen, Great Egret, Yellow-billed Duck, Cattle Egret and Red-knobbed Coot. I also heard Red-chested and Black Cuckoo calling.
I was starting to think that I had missed the Pygmy-Goose which had been showing all week but I had not managed to get to the spot. Suddenly I saw a duck fly overhead and knew almost instinctively that it was something that I had never seen before - both the size and the white marking on the wings hinted towards Pygmy Goose. I made my way to the area where it had landed and after a few minutes of scanning spotted the beautiful little chap!
Before my time at the dam was over I would see another fly by - this time by 2 Pygmy-Goose (and I immediately grabbed by cell phone and sms'd Trevor Hardaker to share this new information with others!). I also saw one of the Pygmy-Goose at least one more time before I left.
My focus had also been on spotted Pectoral Sandpiper and I had done some homework to hopefully been able to identify it when I saw it. The shoreline was simply alive with Waders - I am sure that if I averaged all the waders out there would be one for ever 3 meters of shoreline! However, it seems like all I saw on the day were Marsh Sandpiper, Wood Sandpiper and lots and lots of Ruff. I spent hours pouring over my pics and have posted a few to the GBT forum for confirmation but sadly it does not look likely that I saw them! Here are the Waders I saw and have identified:
Realistically, the only bird that could be a Pectoral Sandpiper in my truck load of Sandpiper pics is this one:
I managed to get GPS co-ordinates for the location of the Spotted Crake and settled down to see if it would show up and I suddenly saw a little bird, much smaller than Common Moorhen make a move from some reeds and start foraging in the shallow water. I snapped a few shots and soon it disappeared into a clump of reeds close to the shoreline. After waiting for it to make a move for about 15 minutes I decided to move my car closer to get a better view as I was too far away for good pics. Unfortunately despite waiting for another 20 minutes and finally getting out to take a closer look I never saw it again. Here are the GPS co-ordinates for where I saw the Crake (25°9'3.20"S and 28°49'36.67"E). These are the best of the pics that I managed to get:
Another highlight was seeing two Greater Painted-snipe foraging in shallow water at the edge of the shoreline - not too far from where I had seen the Spotted Crake.
One other highlight was seeing a Yellow-billed Stork on a few occasions. It seemed rather un-disturbed by my presence.
Here is a list of other bird species that I saw during my time at the dam: Malachite Kingfisher, Glossy Ibis, Yellow-fronted Canary, White-browed Sparrow-Weaver, Purple Heron, Three-banded Plover, Pied Kingfisher, Grey-headed Gull, Goliath Heron, Little Egret, Pin-tailed Whydah, Scaly-feathered Finch, Blue Waxbill, Southern Red Bishop, Tawny-flanked Prinia, Whiskered Tern, Black-throated Canary, Black Crake and Egyptian Goose. And here is a selection of pics that I tool:
There is one bird that I knew that I had seen before but just could not place it, until Jay on GBT solved the mystery: it is a female Red-backed Shrike:
And of course I had an encounter with a huge Nile Monitor - I seem to bump into them everywhere at the moment.
What an amazing day out - I saw 56 bird species; 2 lifers (the Pygmy Goose and Spotted Crake) and better pics of Painted-snipe than I had managed to get before.
I had a potentially threatening situation develop where I passed a young man and kept driving - and while I was waiting for the Crake he came walking up to my car and my passenger window was open - while we chatted (his name is Elliot) he leaned in, picked up my copy of Roberts and made some comments about the bird I was looking for) - I had my hand on my keys in the ignition the whole time ready to start my car and drive away if necessary! My camera had been on the passenger seat in full view - fortunately I moved it to between my legs as he approached the car. I think I need to have my car running if I get into a situation like this again. It turned out that he has lost his job at a security company near Pretoria, has a kid to support and now is back in the village trying to figure out what to do next with his life. I can see how dangerous situation can develop so quickly! We certainly do need to be careful while out in the field!
Trip 3 - December 2010
I made another visit to the dam - still hoping to see the illusive Pectoral Sandpiper - but once more despite searching through dozens of waders did not see them. However it was an awesome outing and I appreciated seeing a few species that I had not yet recorded for the spot. Here is a selection of water birds pics that I took on the trip:
Here is a section of pics that I took of birds in the bush around the shoreline:
Trip 4 - October 2010
In October 2010 some guys from the Global Bird Trekkers forum asked if they could join me on one of my Monday birding outings and we headed off at 4am for Mkhombo Dam. The Moloto Road was hectic wih traffic even before 5am and when I asked Roelof to take a turn that I thought was a shortcut to the dam he was only to happy to get off that treacherous road. However this road led us to the little town of Rust De Winter and a good 20km of dirt road was travelled to get us to the northern shores of the dam. We did not mind as it gave us multiple chances to see bushveld birds along the way - and one of the guys even got a lifer in Southern White-crowned Shrike. By the time we got to the dam we had seen Yellow-throated Petronia; Southern White-crowned Shrike; Swainson's Spurfowl; Red-breasted Swallow; Southern Boubou; Rattling Cisticola; Black-shouldered Kite; Little Swift; Dark-capped Bulbul; Laughing Dove; Black-headed Heron; Pearl-spotted Owlet; Chestnut-vented Tit-Babbler; Fork-tailed Drongo; Long-billed Crombec; Golden-tailed Woodpecker; Ashy Tit; Red-billed Oxpecker; Southern Masked Weaver; Cape Glossy Starling; White-browed Sparrow-Weaver; Southern Yellow-billed Hornbill; Cattle Egret; White-rumped Swift; African Palm Swift; Egyptian Goose; Common Myna; Crowned Lapwing; Cape Turtle Dove; Gabar Goshawk; Pied Crow; Southern Pied Babbler; Marico Flycatcher; Magpie Shrike, Neddicky and Blacksmith Lapwing.
We arrived at the Loding entrance to the dam and made our way to the spot where the road ends as it mysteriously leads straight into the water! In this area we saw Black-crowned Tchagra; Common Moorhen; Glossy Ibis; Black Crake; African Jacana; Squacco Heron; Goliath Heron; Black Heron; African Reed Warbler; African Fish-Eagle; Red-eyed Dove; Blue Waxbill; Burchell's Coucal; Sacred Ibis; Crested Francolin, Grey Go-away-bird, White-browed Scrub-Robin; Red-billed Hornbill, Firefinch (African or Red-billed); Southern Grey-headed Sparrow, Reed Cormorant; African Spoonbill; Arrow-marked Babbler; Giant Kingfisher and African Wattled Lapwing. We then headed to the spot where the river flows into the dam and saw White-winged Tern; Whiskered Tern; Great Egret; White-breasted Cormorant; Greater Striped Swallow; Brown-hooded Kingfisher, Wahlberg's Eagle and Tawny-flanked Prinia. We were stopped by some guys in a bakkie and accused of being poachers - but we managed to convince them that we were just birding. You would have thought that our birding books, binocs and cameras would have convinced them - but it took quite some explaining!
It was around 10:30 by the time we arrived at the southern shores of the dam and we made our way to Geddes Bay. Sadly the cows in the area have been affected by a disease that has spread from the Wildebeest in the reserve and we saw at least 5 carcasses around the day. The bird life was nowhere near as prolific as in ovember/December last year when all the specials were found at the dam. There were hundreds of White-faced Duck around, a few Fulvous Duck, good numbers of Red-knobbed Coot and a few dozen waders - including Common Greenshank, Wood Sandpiper, Three-banded Plover and Ruff. The other water birds around were African Purple Swamphen, Hamerkop, Purple Heron, Grey Heron, lots of Goliath Heron, African Darter, Reed and White-breasted Cormorant, two Yellow-billed Duck, Little Egret, Great Egret. The other birds in the bush and around the dam were quite a few African Pipit, Cape Wagtail, Pin-tailed Whydah, Black-throated Canary, Kalahari Scrub-Robin, Speckled Pigeon, Malachite Kingfisher, Pied Kingfisher, White-bellied Sunbird, Barred Wren-Warbler, Black Cuckoo (that I managed to get a photo of after calling it out and stalking it for about 15 minutes), Red-chested Cuckoo, Cape Sparrow, Burchell's Starling and Red-billed Quelea.
One of the interesting sightings of the day was of a wader that stood out from all the other waders. It was larger than the other Wood Sandpipers in the area, had legs that were really bright yellow and seemed much shyer than the other waders. We spent hours after the trip looking at our pics and wondering whether it could be a very rare sighting of Lesser Yellowlegs. In the end it seems inconclusive and we probably won't be ticking it off our life list. We are hoping that someone else will locate the bird and confirm what we believe we saw. Here are some photos of the bird:
Here are some other photos that I took on the day:
Trip 5 - November 2011
After reading about great sightings at Mkhombo Dam by Niall Perrins I decided to spend my Monday at the spot. He had seen Grey Plover, Pectoral Sandpiper and Ruddy Turnstone and while none of these species would be lifers for me, the chance of improving my shots of the three species was a great motivator to risk my life on the dangerous Moloto Road.
Leaving home at 4am, I managed to get past most of the traffic that builds up heading towards Pretoria by 5:30 and arrived at the dam around 6am. I left home in torrential rain and while it was not raining at the dam when I arrived it was very bleak with heavy cloud cover. I made my way along the shoreline - all the way to the end of the road and had not seen one of the specials and started to make my way back. I would attempt to bird closer to the waterline and it would start to drizzle which would send my scurrying back to my car to protect my camera and binocs from damage. It was not looking good. I seriously considered getting out of there before the threatening rain broke loose and I got stuck in the mud with my 2 wheel drive vehicle. Fortunately I did not and was rewarded with great sightings of all the species as well as some other highlights like Greater Painted Snipe, Curlew Sandpiper, Common Ringed Plover and Yellow Wagtail.
The challenges of the day were getting close enough to the waterline to get decent shots of the waders without getting stuck in the mud and also the lack of light available all day. Here is a scenery shot of how bleak it looking around 8:30 - and two pics that show something of the quantity of bird life on the day:
Sadly, despite using all my current knowledge of photography, these images are the best that I was able to capture with the lack of light and the distance to the birds:
The Grey Plovers
The Pectoral Sandpipers
The Ruddy Turnstone This bird gets my vote for the best looking bird in flight!
The Yellow Wagtails I am sure if the second pic is a juvenile Cape Wagtail or a Yellow Wagtail:
Some Wader Comparison Shots: Here are some pics that show the relative size of different waders:
Other Waders:
Other Birds:
Another amazing day out despite the tough conditions for photography.
Trip 6 - September 2012
On Saturday the 1st September my wife and I headed to Mkhombo Dam for the morning. I have never seen the water levels so low - you simply could not stay on the road along the lake and hope to see any birds on the shoreline. Some of the highlights were a close up sighting of Marsh Owl which seemed to be building a nest (one of the photos show it carrying a reed), a good sized flock of Greater Flamingo and two Temminick's Courser. Here are a few scenery shots to showMkhomboDam8 the lack of water in the dam: (yep, that is me in the third photo - I was trying to teach the Flamingo's how to fly so I could get some BIF shots :)).
Here is a selection of photos that made the cut (I am in a bit of a learning curve right having invested in a second-hand 2x tele-converter for my 300mm lens - sadly it is not the greatest quality version so the results are rather mixed at present):
Here is a full list of birds seen during the morning (a total of 72 species): Heron Grey, Jacana African, Lapwing Blacksmith, Sandpiper Wood, Crow Pied, Sandpiper Common, Crake Black, Kingfisher Giant, Shrike Crimson-breasted, Plover Three-banded, Ruff, Cormorant Reed, Dove Red-eyed, Go-away-bird Grey, Owl Marsh, Teal Red-billed, Shoveler Cape, Duck White-faced, Duck Yellow-billed, Stilt Black-winged, Pipit African, Greenshank Common, Weaver Southern Masked, Pigeon Speckled, Coucal Burchell's, Eagle African Fish, Sunbird White-bellied, Flycatcher Marico, Dove Laughing, Robin Kalahari Scrub, Drongo Fork-tailed, Cisticola Rattling, Canary Black-throated, Waxbill Blue, Whydah Pin-tailed, Egret Cattle, Oxpecker Red-billed, Lapwing Crowned, Myna Common, Quelea Red-billed, Bishop Southern Red, Swallow White-throated, Guineafowl Helmeted, Plover Kittlitz's, Spoonbill African, Ibis Glossy, Ibis Hadeda, Goose Spur-winged, Heron Black, Shrike Magpie, Goose Egyptian, Courser Temminck's, Roller Lilac-breasted, Tern Whiskered, Gull Grey-headed, Coot Red-knobbed, Heron Goliath, Egret Great, Kingfisher Malachite, Flamingo Greater, Kingfisher Pied, Sparrow-Weaver White-browed, Robin White-browed Scrub, Mousebird Red-faced, Firefinch Red-billed, Hoopoe African, Ibis African Sacred, Hornbill Southern Red-billed, Cormorant White-breasted, Lark Sabota, Neddicky, Dove Namaqua.
Index